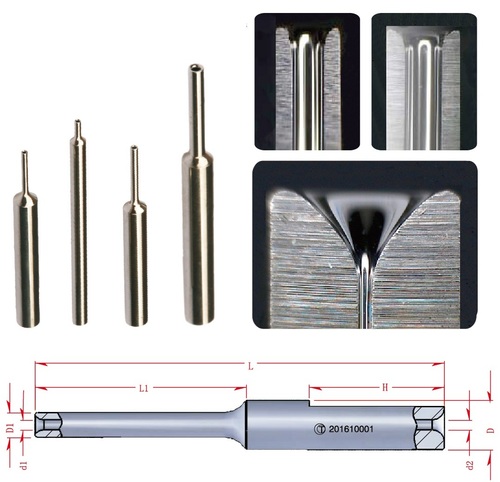 Tungsten Carbide Coil Winding Nozzle
Price And Quantity
Product Specifications
Coil Winding Nozzle

Tungsten Carbide
For Guiding Copper Wire

0.2-0.5 Kilograms (kg)
Product Description
Tungsten Carbide Coil Winding Nozzle is required for guiding copper wire while winding of electronic assemblies including transformers or motor structures. It is made of superior quality tungsten carbide material and is appreciated for having smooth & strong structural configuration. This nozzle is perfect to be installed in automatic winding machines assuring their superior performance. Tungsten Carbide Coil Winding Nozzle offered by us is greatly admired to ensure smooth wire traveling without causing any stress during winding operation.

Features
Concentricity is within 0.01mm
Assures perfect straightness & stiffness of wire
Superior wear resistance
TUNGSTEN CARBIDE NOZZLES (W SERIES)

TROPHY's Carbide nozzles Series is made of tungsten carbide material, with a hardness upto HRA90 and above, and bending resistance up to 2300N/mm. It has an excellent balance between the wear resistance and being too brittle. Each nozzle is made of a solid piece of material with no joints so as to ensure a smooth path for wire travel. The inner bore is ground and polished to Ra0.1. Both the inlet and outlet radii are scientifically calculated and processed to a surface finish ofRa0.025, ensuring smooth travelling and minimal stress to the wire during winding. Concentricity between the clamping diameter and the outlet diameter is0.01mm. The inner bore diameter's tolerance is 0.01mm. It is excellent for precision coil layering.
Advantages
CARBIDE NOZZLE (W SERIES) PART NUMBER GUIDE
Example: W0530-030-0810
"W" - indicates nozzle material is Carbide.
The dimensions of above example is as below (mm):
d1=d2=0.5, L=30, D=3, d1=0.8, L1=10
Manufacturing limitation : d1 to be =0.1mm, D1 to be = 0.3mm
Dimensions

| | | | | | | | | |
| --- | --- | --- | --- | --- | --- | --- | --- | --- |
| Item | Part No. | L | L1 | D | D1 | d1 | d2 | H |
| TH2-001 | W0435-2-1010 | 35 | 10 | 2 | 1 | 0.4 | 0.4 | N/A |
| TH2-002 | W0535-2-1210 | 35 | 10 | 2 | 1.2 | 0.5 | 0.5 | N/A |
| TH2-003 | W0435-2-1207 | 35 | 7 | 2 | 1.2 | 0.4 | 0.4 | N/A |
| TH2-004 | W0635-2-1210 | 35 | 10 | 2 | 1.2 | 0.6 | 0.6 | N/A |
| TH2-005 | W0435-2-1007 | 35 | 7 | 2 | 1 | 0.4 | 0.4 | N/A |
| TH2-006 | W0530-2-1210 | 30 | 10 | 2 | 1.2 | 0.5 | 0.5 | N/A |
| TH2-007 | W0330-2-0808 | 30 | 8 | 2 | 0.8 | 0.3 | 0.3 | N/A |
| TH2-008 | W0330-2-0607 | 30 | 7 | 2 | 0.6 | 0.3 | 0.3 | N/A |
| TH2-009 | W0435-2-1508 | 35 | 8 | 2 | 1.5 | 0.4 | 0.4 | N/A |
| TH2-010 | W0635-2-1510 | 35 | 10 | 2 | 1.5 | 0.6 | 0.6 | N/A |
| TH2-011 | W0335-2-0810 | 35 | 10 | 2 | .8 | 0.3 | 0.3 | N/A |
| TH2-012 | W0326-2-1007 | 26 | 7 | 2 | 1 | 0.3 | 0.3 | N/A |
| TH2-013 | W0430-2-1010 | 30 | 10 | 2 | 1 | 0.4 | 0.4 | N/A |
| TH2-014 | W0530-2-1010 | 30 | 10 | 2 | 1 | 0.5 | 0.5 | N/A |
| TH2-015 | W0430-2-1085 | 30 | 8.2 | 2 | 1 | 0.4 | 0.4 | N/A |
| TH2-016 | W0735-2.5-1811 | 35 | 11 | 2.5 | 1.8 | 0.7 | 0.7 | N/A |
| TH2-017 | W08.5-2.5-2011 | 35 | 11 | 2.5 | 2 | 0.8 | 0.8 | N/A |
| TH2-018 | W0330-2-1006 | 30 | 6 | 2 | 1 | 0.3 | 0.3 | N/A |
| TH2-019 | W0635-2-125 | 35 | 15 | 2 | 1.2 | 0.6 | 0.6 | N/A |
TUNGSTEN CARBIDE NOZZLE - TH3 SERIES
No.

Item

Part No.

Specification (mm)

L

L1

D

D1

d1

d2

H

1

TH3-001

W0335-3-1010

30

7

3

1.0

0.3

0.3

N/A

2

TH3-002

W0430-3-1007

30

7

3

1.0

0.4

0.4

N/A

3

TH3-003

W0530-3-1010

30

10

3

1.0

0.5

0.5

N/A

4

TH3-004

W0630-3-1007

30

7

3

1.0

0.6

0.6

N/A

5

TH3-005

W0330-3-0807

30

7

3

0.8

0.3

0.3

N/A

6

TH3-006

W0630-3-1211

30

11

3

1.2

0.6

0.6

N/A

7

TH3-007

W0630-3-1309

30

9

3

1.3

0.6

0.6

N/A

8

TH3-008

W0611-3-1506P

11

6

3

1.5

0.6

0.6

5

9

TH3-009

W0614-3-1509P

14

9

3

1.5

0.6

0.6

5

10

TH3-010

W0814-3-1509P

14

9

3

1.5

0.8

1

5

11

TH3-011

W1014-3-1509P

14

9

3

1.5

1

1

5

12

TH3-012

W04143-1009P

14

9

3

1.0

0.4

0.4

5

13

TH3-013

W 1030-3

30

N/A

3

N/A

1

1

N/A

14

TH3-014

W0326-3-0808

26

8

3

0.8

0.3

0.3

N/A

15

TH3-015

W0330-3-0810

30

10

3

0.8

0.3

0.3

N/A

16

TH3-016

W0330-3-0607

30

7

3

0.6

0.3

0.3

N/A

17

TH3-017

W03265-3-0811P

26.5

11

3

0.8

0.3

0.3

15

18

TH3-018

W0626-3-1208

26

8

3

1.2

0.6

0.6

N/A

19

TH3-019

W1030-3-2014

30

14

3

2

1

1

N/A

20

TH3-020

W1230-3-2514

30

14

3

2.5

1.2

1.2

N/A

21

TH3-021

W0330-3-0707

30

7

3

0.7

0.3

0.3

N/A

22

TH3-022

W0330-3-0502

30

2

3

0.5

0.3

0.3

N/A

23

TH3-023

W0626-3-1208

26

8

3

1.2

0.6

0.6

N/A

24

TH3-024

W0530-3-1210

30

10

3

1.2

0.5

0.5

N/A

25

TH3-025

W0330-3-0504

30

4

3

0.5

0.3

0.3

N/A

26

TH3-026

W0825-3

25

N/A

3

N/A

0.8

0.8

N/A

27

TH3-027

W0435-3-1211

35

11

3

1.2

0.4

0.4

N/A

28

TH3-028

W03535-3-0811

35

11

3

0.8

0.35

0.35

N/A

29

TH3-029

W0735-3-1411

35

11

3

1.4

0.7

0.7

N/A

30

TH3-030

W0430-3-0808

30

8

3

0.8

0.4

0.4

N/A

31

TH3-031

W1025-3-1608

25

8

3

1.6

1

1

N/A

32

TH3-032

W0845-3-2017

45

17

3

2

0.8

0.8

N/A

33

TH3-033

W1535-3

35

N/A

3

N/A

1.5

1.5

N/A

34

TH3-034

W0535-3-1211

35

11

3

1.2

0.5

0.5

N/A

35

TH3-035

W1036-3-2016

36

16

3

2

1.0

1.0

N/A

36

TH3-036

W0630-3-1212

30

12

3

1.2

0.6

0.6

N/A

37

TH3-037

W1022-3-2010

22

10

3

2

1.0

1.0

N/A

38

TH3-038

W0430-3-1510

30

10

3

1.5

0.4

0.4

N/A

39

TH3-039

W0630-3-1511

30

11

3

1.5

0.6

0.6

N/A

40

TH3-040

W0830-3-2010

30

10

3

2

0.8

0.8

N/A
TUNGSTEN CARBIDE NOZZLE -TH4 SERIES
No.

Item

Part No.

Specification (mm)

L

L1

D

D1

d1

d2

H

1

TH4-001

W0435-2-1010

30

15

4

2.0

0.8

0.8

N/A

2

TH4-002

W1243-4-2515

43

15

4

2.5

1.2

1.2

N/A

3

TH4-003

W1243-4-2515P

43

15

4

2.5

1.2

1.2

20

4

TH4-004

W0843-4-2015P

43

15

4

2.0

0.8

0.8

20

5

TH4-005

W1232-4.5

32

N/A

4.5

N/A

1.2

1.2

N/A

6

TH4-006

W1543-4-2512P

43

12

4

2.5

1.5

1.5

20

7

TH4-007

W0843-3.9-2019P

43

19

3.9

2.0

0.8

0.8

19

8

TH4-008

W2020-5

20

N/A

5

N/A

2.0

2.0

N/A
Trade Information
Contact us for information regarding our sample policy

All India