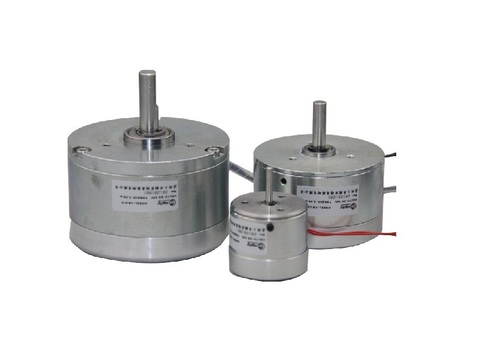 Hysteresis Brakes HB Series
Price And Quantity
Product Specifications
0.15 Kilograms (kg)

Electric
Product Description
HB Series Hysteresis Brakes
are friction less, electromagnetic brakes. They Produce torque strictly through a magnetic air gap without the use of magnetic particles or friction components. The offered brake is widely used to stop the working of the machines according to the conditions. Rust resistance, accurate dimensions, durable, safe and easy to use are qualities of offered product. This brake provides far superior operating characteristics - smoother torque, high degree of controllability, superior repeatability, less maintenance and long operation life and down time. Our customers can get this
HB Series Hysteresis Brakes
from us in varied technical specifications.
Impotent Note
Kinetic power ratings are maximum values based on limiting coil and / or bearing temperature of approximately 90 C, and should not be exceeded. Actual values in service may vary + or - 30%

Standard coil voltage is 24 VDC. Non-standard coil voltage are available.

Single Shaft or Double Shaft is available for all models.

Hysteresis Brake Size Parameter (Specifications are subject to change without notice.)

| | | | | | | | | | | | | | | | | |
| --- | --- | --- | --- | --- | --- | --- | --- | --- | --- | --- | --- | --- | --- | --- | --- | --- |
| Model | A | B | C | D | E | F | G1 | G2 | H | I | J | K | L | M | N | 24V Output Torque |
| HB-005 | 40 | 2 | 6 | 0.4 | 0 | 20 | 41 | 52 | 11 | 25 | 11 | M3*4 | 20 | 0 | 0 | 0.005NM |
| HB-010 | 40 | 4 | 8 | 0.4 | 0 | 20 | 55 | 45 | 14 | 25 | 15 | M3*4 | 20 | 10 | 0.3 | 0.01NM |
| HB-050 | 42 | 6 | 15 | 0.6 | 0 | 29 | 67 | 57 | 15 | 35 | 16 | M3*5 | 26 | 10 | 0.5 | 0.05NM |
| HB-100 | 58 | 6 | 15 | 0.6 | 2 | 27 | 76 | 66 | 20 | 32 | 20 | M3*6 | 30 | 12 | 0.5 | 0.1NM |
| HB-200 | 58 | 6 | 15 | 0.6 | 2 | 27 | 76 | 66 | 20 | 32 | 20 | M3*6 | 30 | 12 | 0.5 | 0.2NM |
| HB-500 | 69 | 8 | 22 | 0.8 | 3 | 35 | 98 | 88 | 26 | 41 | 25 | M3*8 | 40 | 15 | 0.8 | 0.5NM |
| HB-1000 | 91 | 10 | 22 | 1 | 2 | 40 | 110 | 100 | 27 | 50.5 | 30 | M3*9 | 38 | KeyWay | Key Way | 1NM |